Fabrication of SS / MS Tanks
Do you want high-quality Fabrication of SS / MS Tanks Services at an affordable price? You arrive at the right place.
This information will explain Our Fabrication of SS / MS Tanks Services.
Continue reading further below.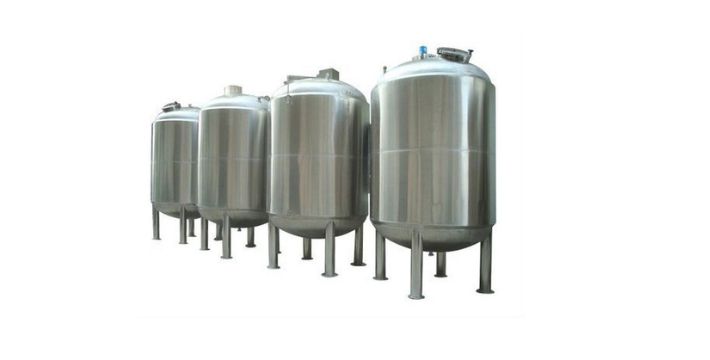 Introduction
We are proud to introduce ourselves as one of the leading service providers engaged in offering SS Tank Fabrication services to our valued clients. These Stainless Steel Fabrication are rendered keeping the preferences of our customers in mind. Besides, these services are delivered with the support of experienced professionals on time. The Stainless Steel Fabrication is known for their flawless performance.
Continue reading to learn more about its different types and benefits!
Types of Industrial Storage Tanks
Industrial storage tanks are containers for storing gas, oil, water, and petrochemical compounds for industrial applications. Industrial storage tanks are available in a variety of sizes and designs.
They are manufactured of concrete, stone, fiberglass, steel, or plastic and can be buried horizontally or vertically.
Industrial storage tanks are classified into numerous categories based on the contents and other criteria.
1. Industrial Fuel Storage Tanks
Industrial fuel storage tanks are often known as petroleum tanks. This is because it contains a variety of fluids. They are typically used to store non-organic and organic liquids. They also contain vapor and other combustible fluids. Fuel tanks are available in a range of shapes and sizes. They are intended to hold various fuels, steam, and industrial liquids.
Types of Industrial Fuel Storage Tanks
The two primary types of fuel storage tanks are underground and aboveground tanks.
Aboveground Fuel Tanks
Aboveground gasoline tanks (AST) are popular due to their cheap long-term maintenance and upfront expenses. In addition, these tanks are less expensive to install than underground tanks since they do not require backfilling, extensive excavation, or more intricate pipes.
Aboveground fuel tanks are easier to maintain than belowground tanks. This is because you can quickly inspect them for leaks and access them for repairs. Aboveground fuel storage tanks are favored for storing fuels and chemicals.
Underground Storage Tanks
An underground storage tank's volume (UST) is submerged at least ten percent of the way. Tanks used to store hazardous materials or fuels are regulated and must be registered with the EPA.
These tanks are ideal for customers who want to maximize their property's space and value. Underground storage tanks are installed beneath lawns and driveways, out of sight. These tanks are safer because the possibility of an explosion is relatively low; however, the likelihood of leakage and pollution increases because these tanks are inspected regularly.
Advantages of Using Fuel Storage Tanks
An industrial fuel storage tank is essential if your company requires the safe storage of fuel and other flammable substances. Chemical, solvent, oil, petrol, diesel, and other hazardous and combustible liquids are safely stored in industrial fuel storage tanks and standard-certified containers. Fuel storage tanks limit evaporative emissions while also preventing substance leakage.
These storage tanks are produced and created by industry standards, making them a trustworthy and practical choice for handling your demand for hazardous substance storage. The following are some of the benefits of using industrial gasoline storage tanks:
(i) Cost Efficient
Utilizing a fuel storage tank saves money because no one from your staff needs to leave the office to replenish equipment or cars. Therefore, it helps save money and time spent refueling outside your corporate premises. These tanks have a storage capacity ranging from 1,000 to 110,000 liters, allowing you to store petrol and fuel based on the amount needed weekly or daily.
(ii) Variety
There are several types of fuel storage tanks available. Aboveground and underground fuel storage tanks are the two main types. These kinds have already been discussed.
Self-bunded tanks are another form of the industrial fuel storage tank. Because of its durability, this style of tank is commonly used. The self-bunded storage tank, with double steel walls, prevents the spilling of the chemical within it. The storage capacity of self-bunded and aboveground tanks is typically around 1,000 and 150,000 liters.
The minimal storage wrap tank is an option if you only need a modest amount of storage. This fuel storage tank has a capacity of 1,000 to 1,450 liters. Minor storage wrap tanks, like self-bunded tanks, do not require sophisticated bunding and give maximum versatility and efficacy.
(iii) Versatility
Some combustible liquids are stored in an industrial fuel storage tank. If your storage demands are exact, notify your manufacturer because they may tailor or modify tank dimensions and models to meet your needs. Furthermore, industrial gasoline storage tanks are simple to install. Some versions are also portable, allowing for easy transfer when required.
2. Industrial Chemical Storage Tanks
Fertilizers, propane, LNG, petroleum products (diesel, gasoline), crude oil, and other chemicals are kept in industrial chemical storage tanks along with other chemicals. Industrial chemical storage tanks come in a variety of designs and sizes. These storage tanks mix, process, store, and transport finished industrial chemicals and raw materials.
Types of Industrial Chemical Storage Tanks
Industrial chemical storage tanks are classified into three types:
Stainless steel tanks
Polyethylene tanks
Fiberglass (FRP) tanks
Stainless Steel Storage Tanks are effective and long-lasting, but they are not suited for certain acids, which are the most expensive option.
Fiberglass Tanks are helpful for a variety of applications. However, they have leaky seams, require more care, are more prone to human mistakes because they are handmade, and are sensitive to certain chemicals such as hydrofluorosilicic acid, which etches glass (the structural component of FRP).
Polyethylene Storage Tanks, which are available in both cross-linked and linear polyethylene, are the most adaptable industrial storage tanks on the market.
Think About The Chemical That Will Be Stored
The chemical that will keep is the most crucial component to consider while building an industrial chemical storage tank unit. It is incorrect to suppose that if a storage tank can retain water, it can also hold chemicals. While a water tank might also contain chemicals for some time, remember that the container was not designed primarily to retain the chemical. Several conditions can cause the tank to deteriorate, resulting in leaks and other risks.
Fortunately, industrial storage tanks made of polyethylene can accommodate any chemical you want to store. Chemical storage tanks made of polyethylene are firm, durable, and cost-effective. The production of polyethylene storage tanks takes place in a mold, eliminating the possibility of human error. Additionally, these tanks come in various configurations that aid in safeguarding your employees, the chemical, and the storage environment.
Linear polyethylene and cross-linked polyethylene are the primary polyethylene materials used for chemical storage tanks (XLPE).
Safety Concerns for Chemical Tanks
Environmental contamination and significant property damage might result from a malfunctioning or broken chemical tank. If chemical storage tanks leak or spill, the chemicals within could contaminate groundwater and drinking water, flow into streams and lakes, or even ignite. Chemical fires can contaminate water and land and endanger human health.
Chemical storage tanks can fail due to degradation or corrosion, defects in construction, poor maintenance, spills during transfers, overfilling, and a lack of or inappropriate leak control.
3. Industrial Oil Storage Tanks
Oil storage tanks are reservoirs or vessels that temporarily store oil during the many stages of the production process into oil products from various types or before consumption or usage. The construction and materials of industrial oil storage tanks are determined by their intended use and the other storage area's requirements for safety, the environment, and regulations.
Carbon steel, stainless steel, concrete structures, and plastic are common materials used in modern industrial oil storage tanks. To store oil underground, they are also cut on salt deposits found in rock that are primarily impermeable. As a result, various types of oil storage tanks have been constructed over time.
Types of Industrial Oil Storage Tanks
Floating Roof Tank
As the name implies, the floating roof tank is made up of a floating roof that lowers or rises in response to the volume of oil in the tank. The floating roof on this tank style has been designed as a safety measure to avoid the buildup of vapors inside the tank.
Fixed Roof Tank
The oil kept in the permanent roof tank is not revealed. However, compared to tanks with floating roofs, these tanks are designed to hold oil products in smaller quantities.
Bunded Tank
Bunded tanks are either surrounded by another tank or a confinement dike. The confinement dike or outside tank serves as a catch system, preventing leaks, oil spills, and other oil pollution from spreading into the surrounding environment.
Single Skin & Double Skin Tanks
A single-skin tank contains a single layer of plastic or steel, while a dual-skin tank includes two layers. Dual-skin tanks are also described as twin-walled tanks
Open Top Tank
Previously, there was a use for tanks like this for storing industrial oil. However, its use is strictly limited due to evaporation losses and the possibility of oil fires.
4. Industrial Hot Water Storage Tanks
Industrial hot water storage tanks are ASME-certified and designed for industrial applications where a steady hot water supply is necessary. Water is heated and kept inside the water storage tank during downtimes to be used when there is a high demand for hot water. It allows for economical energy use while providing hot food as needed.
Due to its large specific heat capacity, water makes a valuable medium for storing heat. In addition, water can hold more heat per unit of weight than other substances. Water is also inexpensive and non-toxic.
A well-insulated industrial hot water storage tank can maintain stored heat for several days, lowering fuel expenditures. These industrial storage tanks may include an integrated oil or gas burner system and electric immersion heaters
Certain hot water tanks, like central heating systems, use an external heat exchanger. These tank types can also use warm water produced using another energy source.
Insulation of Hot Water Storage Tanks
Heat insulation is frequently used in hot water storage tanks to reduce energy use, speed up the heating process, and maintain the correct operating temperature. In addition, thicker thermal insulation reduces standby heat loss. Water heater insulation specifications vary; however, additional insulation layers are installed outside the water heater to reduce heat loss. In severe cases, a water heater is sometimes totally contained within a specially constructed insulated chamber.
Fiberglass is the most popular type of water heater insulation. It's kept in place with straps, tape, or the outside jacket of the water heater. Insulation should not obstruct the airflow or combustion gas outflow when a burner is used.
The majority of modern water heaters include polyurethane foam insulation (PUF). PUF insulation is utilized in an encased form when access to the inner tank is critical (for example, when very harsh oxygen concentrations or mineral deposits are present in the local water supply). This makes it possible to undertake routine integrity inspections and tank repairs while removing the insulation layer (if needed).
Safety Concerns
Hot water causes painful and deadly scorching injuries, particularly in the aged and young. Therefore, the temperature of the water at the discharge must not be higher than 49 degrees Celsius. However, water below 60 degrees Celsius may enable germs to multiply, including those that cause Legionnaire's disease.
5. Industrial Water and Liquid Storage Tanks
Water and fluid storage containers are used to store a wide range of liquids, including petroleum, jet A, diesel, gasoline, and waste oil, as well as for under-burial and pressurized uses. There are various varieties of liquid storage tanks, each with its own set of purposes.
Types of Water and Liquid Storage Tanks
Onion Tanks
Onion tanks are an excellent way to conserve water immediately during an emergency. These tanks are self-rising and have easily accessible fittings. Furthermore, these tanks may be relocated and set up in minutes.
Pillow (Bladder) Tanks
Collapsible tanks are efficient, reusable temporary storage solutions known as blivets, reservoirs, or pillow tanks.
Poly Tanks
Poly tanks can also be used in the home. They are utilized for various purposes, such as rainwater harvesting and drinkable water storage. Poly tanks are used in a wide range of configurations, including wastewater tanks, transportable tanks, aboveground tanks, and others.
Fiberglass Tanks
Fiberglass fluid storage tanks are long-lasting since they do not corrode or rust quickly. In addition, these tanks are extremely temperature resistant. They are available with various coatings to provide optimal performance with different liquid storage demands.
Welded Steel Tanks
Welded steel tanks are a dependable long-term storage solution. They are available in a variety of forms and sizes to accommodate a variety of applications.
Corrugated Steel Tanks
Corrugated iron fluid storage tanks are adaptable, long-lasting, and cost-effective. They are constructed from galvanized corrugated steel. These containers are available in a wide range of sizes and can be customized to fit individual project requirements. Corrugated metal tanks are used for rainwater collection, industrial processing water storage, and firefighting.
6. Industrial Plastic Storage Tanks
Water storage is essential for household, commercial, industrial, and residential applications. Plastic water vessels are one of the most excellent conventional water storage options. Plastic tanks are lighter, more durable, and take up less space than concrete and cement. Furthermore, plastic tanks are more adaptable than traditional storage tanks. Because of these benefits, plastic water tanks are a popular choice.
Following Materials are Used to Make Plastic Water Storage Tanks:
Plastic water tanks are produced from various materials, including linear low-density polyethylene, fiberglass, and polypropylene.
Applications of Plastic Water Storage Tanks
Plastic water storage tanks are being utilized more and more in preparing food, wastewater treatment containers, chemical manufacturing, suppression valves, agriculture, and irrigation.
Plastic tanks are constructed based on the type of liquid being stored. These tanks have a storage capacity of 1.5 to 1.9 specific gravity. The use of plastic in a holding tank usually permits the fluid pressure to be apparent.
Liquids such as brine, used vegetable oil, soaps, cleaning supplies, industrial chemicals, farm and agricultural chemicals, diesel exhaust fluid (DEF), liquid fertilizers, potable water, and non-potable water are all commonly stored in plastic storage tanks.
Category of Plastic Water Storage Tanks
Plastic water storage tanks are divided into several varieties based on their polymer and plastic composition, size, shape, and application.
Polymer types include polyethylene, fiberglass, and many other plastic tanks.
Plastic containers are also divided into two types: fresh and recycled.
Plastic water storing tanks are classified into rectangular, circular, and other shapes.
These tanks are categorized as significant (more than 5000 liters), medium (1000 liters to 5000 liters), and tiny (less than 1000 liters).
These storage tanks are classified into four types according to their application: industrial, governmental, residential, and commercial.
Medium-sized cylindrical water tanks are typically composed of recycled polymers based on polyethylene.
7. Industrial Gas Storage Tanks
Most materials that are in a gaseous state at room temperature and pressure are delivered as a form of compressed gases. Then, using a gas compressor and pipe systems, the gases are compressed into pressure vessels for storage (such as tubes trailer, gas cylinders, or gas canisters). Gas cylinders are the most prevalent type of gas storage container, with a vast number manufactured at "cylinder fill" operations.
However, not all industrial gases are provided in gaseous form. Some gases are vapors, liquified under tension alone at room temperature. Hence these gases are also given as a fluid in an appropriate container. Because of this phase transition, these gases can be used as ambient refrigerants. Sulfur dioxide, butane, propane, and ammonia are well-known industrial gases with this feature.
Delivery of Gas
The major industrial gases are produced in bulk and distributed to customers through pipelines. It is possible to transport and package them, though.
Most gases are supplied in gas cylinders, with a few sold in liquid form within suitable containers or as bulk liquid carried by truck. Initially, the industry provided gases in cylinders to avoid the need for local gas generation. However, for significant customers such as petroleum refining or steelworks, a large-scale gas generation plant can be erected nearby to avoid using cylinders manifolded together in huge numbers. It is also known as an "on-site" facility.
Types of Industrial Gas Storage Tanks
There are different types of storage tanks available in industries. The industrial gas storage tank necessary for a plant is determined by multiple parameters, including the container's storage capacity, dimension, and design.
The Following Are The Most Popular Types of Industrial Tanks:
Internal Floating Roof
Internal floating roof tanks, or IFRs, are used for liquids with lower melting points, such as gasoline and ethanol. These tanks are cone-shaped and have a floating roof inside, hence the term floating roof tank. The ceiling hanging inside the holding tank moves following the fluid level, i.e., as the liquid level rises, the roof rises, and as the liquid level falls, the top falls. If the tank is empty, the roof is supported by the legs on which it is mounted.
Bullet Tanks
Bullet tanks are round, flat-shaped industrial holding tanks commonly found in large factories. These tanks are typically preferred above others for storing liquefied gases with low melting points, such as Butane and Ammonia.
The tank's name is derived from its long cylindrical shape, and it keeps these liquids at temperatures around -148 degrees Fahrenheit. These tanks can hold large amounts of gas, ranging between 5,000 to 30,000 liters. They can also be mounted both horizontally and vertically. In addition, bullet tanks are distinguished by their ability to store gasoline and other additives essential for the plant's operation.
LNG Storage Tank
The LNG storage tank, also known as the liquefied natural gas storage tank, is utilized to store Liquefied Natural Gas. These industrial storage tanks are offered in LNG carriers, on the ground, or above ground. LNG storage tanks provide the unique ability to store LNG at the shallow temperature of -162 °C.
These tanks are made up of two containers: one carries LNG, and the other holds insulating materials. The most frequent type of tank is the fully contained storage tank. A tank of this size has a diameter of 75 m and a height of 55 m. (180 ft.).
The pressure and temperature inside such tanks continue to rise if the LNG fumes are not discharged. Liquefied natural gas is stored at shallow temperatures since it is a cryogen and must be kept in a liquid state. Therefore, if the pressure is kept constant by releasing the tank's boil-off gas, the temperature inside these tanks will remain constant. This phenomenon is known as auto-refrigeration.
Any industrial storage tank should be efficiently planned and built, complying with all safety regulations and abiding by all safety rules to prevent disasters. In addition, they need to maintain professionalism with safety and quality tests and inspections performed regularly.