SS/MS Tables & Furniture Manufacturer
Do you want high-quality SS / MS Tables & Furniture at an affordable price? You arrive at the right place.
This information will explain more about Our SS / MS Tables & furniture.
Continue reading further below.
What Is The Definition Of A Stainless Steel Table?
SMVK's Stainless Steel Tables are manufactured of high-quality stainless steel that is corrosion resistant and chemical abrasion and is engineered to handle high pressure and compression while remaining dimensionally precise.
All of the components of SMVK's stainless steel tables are welded using argon, making them simple to use and handle. In addition, its well-designed appearance provides an attractive and aesthetic vibe that complements various interior settings.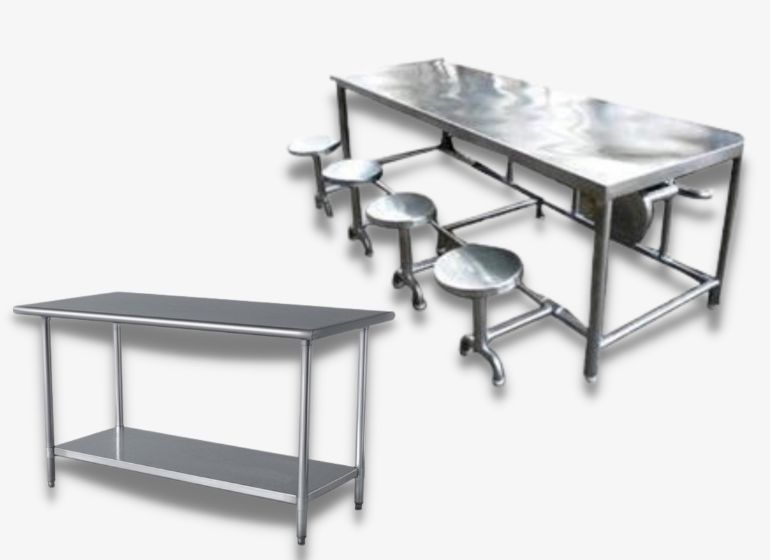 Since SMVK's Stainless Steel Tables are produced using the most modern, well-equipped CNC technology and cutting and bending procedures, they are 100% quality checked and inspected for any other structural problems by our professionally trained personnel by Indian and worldwide industry standards guidelines.
SMVK's stainless steel tables are widely used for a wide range of applications and in several different industries, including pharmaceutical, food, dairy, beverage, chemical, and other industries.
Since 2014, SMVK has offered premium products of the highest quality that are competitively priced, functionally planned, and precisely made to fulfill the needs and demands of our esteemed customers by national and international industry standards.
Features
Aesthetic Appearance
Precision Manufactured Without Corrosion
Smooth Surface Polish
Extremely Long-Lasting
Simple To Clean
Cost-Effective
What is Stainless Steel?
Inox steel, often known as inox from the French word "inoxydable," is a steel alloy with a specific chromium percentage of 10.5% to 11% by mass. Stainless steel does not cause corrosion, rust, or stain with water as quickly as conventional steel. Still, it is only partially stain-proof, particularly in low oxygen, salt stress, or poor circulatory situations. Whenever the alloy type and quality are not specified, it is sometimes known as corrosion-resistant steel or CRES, notably in the aviation industry. Stainless steel comes in various grades and surface treatments to fit the environment the alloy must withstand. Stainless steel is utilized when both steel characteristics and corrosion resistance are required.
What Makes Stainless Steel Resist Corrosion?
A corrosion barrier is formed on any exposed layer when chromium (the essential component in stainless steel) exceeds roughly 10.5%. This comparatively resistant layer has a self-healing or self-restoring quality. If it breaks, it will automatically mend itself when exposed to an oxidizer like air or nitric acid again. Chromium content can be gradually increased over 10.5%, and other elements like nickel, molybdenum, and copper are added to increase corrosion resistance under specific conditions.
Stainless steel tables are utilized in a broad range of sectors and applications, from restaurants to cleanrooms, but how do you determine which type of stainless steel is ideal for you? Only some stainless steel is the same or suitable for every application. This article will examine the various grades, designs, and practical uses of our two most extensive stainless steel table lines. We also offer fully customizable isolator-specific stainless tables and low-cost stainless steel-wrapped tables, but more on later. Let's start by learning about the different types of stainless steel utilized in our SMVK tables.
Stainless Steel Grades
Starting with the lowest grade: 430 Stainless Steel
Grade 430 is a straight-chromium, ferritic, non-hardenable grade with good corrosion resistance, formability, and practical mechanical qualities. Its resistance to nitric acid attack allows for its usage in a limited number of chemical applications, although its significant fields of application are automobile trim and appliance components.
Ferritic Stainless Steel (409, 430, 3CR12)
These stainless steels are nickel-free. The chromium content ranges from 12% to 18%, although the carbon content is lower. Their name comes from the stable ferritic metallurgical structure at ambient temperature.
Ferritic stainless steels differ from austenitic stainless steels in the following ways:
Less Expensive
Lower Corrosion Resistance
It Can Be Welded But Requires More Care
Easily Formed (Bent, Cut, Etc.)
It Is Magnetic
Moderate High Temperature (Up To 800°c For 430)
Slight Increases In Strength By Cold Working (Up To 50%)
Superior Resistance To Stress Corrosion Cracking
SMVK's Affordable Quality Stainless Steel Tables are designed for industrial use and are made of 16 gauge 430 stainless steel. These tables are not used in applications involving food service.
Application Recommendations:
Anywhere (Food Standard)
Industrial
Garages
Warehousing
The Most Popular Grade: Is 304 Stainless Steel.
The most popular and adaptable stainless steel is grade 304, which comes in a greater variety of products, shapes, and surfaces than any other grade. Grade 304 is the typical "18/8" stainless. It has exceptional forming and welding properties. Grade 304 is the industry standard for producing drawn stainless parts like sinks, hollow ware, and saucepans because its balanced austenitic structure allows severe deep drawing without intermediate annealing.
Austenitic Stainless Steel (301, 304, 304L, 316, 316L 321, 310)
Austenitic stainless steel's primary components are 8% nickel and 18% chromium. Most of the output is made with austenitic grades, with type 304 being the most utilized. The term derives from their stable austenitic single-phase metallurgical structure at ambient temperature.
The Following Characteristics Are Found In Austenitic Stainless Steel:
Can Be Strengthened By Cold Working (Up To 4 Times)
Easily Welded
High Ductility
Good Corrosion Resistance
Suitable For High Temperatures To (E.G., 310 To 1100°c)
Suitable For Low Temperatures (Including Cryogenic Applications)
It Is Non-Magnetic
Surface Coatings on Stainless Steel
There are numerous varieties of stainless steel finishes, including:
Plates that have been hot rolled, annealed, and are thicker
The steel was hot rolled, annealed, and passivated.
Pickled, passivated, annealed, and cold rolled.
The process for bright annealing (BA or 2R) and brilliant annealing under an oxygen-free atmosphere are the same.
The rough abrasive finish that was physically applied
Brushed Finish
Satin Finish
Matte Surface
Reflective Finish
Mirror Finish
Finish With A Bead Blast
Heat-Colored Finish
Stainless Steel Surface Styles
The surface styles available with SMVK are straightforward, with three primary varieties.
Flat Top: The most common table design is the flat top. This layout provides a smooth surface with no edges, panels, or upswings.
Upturned: SMVK SS tables have an upturned edge that avoids some flooding and keeps things from sliding down the back of the table. It is smaller than a backsplash but still offers some splash protection.
Backsplash: Backsplashes keep fluids, foods, and other items off of walls and other surfaces. These are higher than overturned alternatives, so spills and splashing are reduced.
Perforated Surfaces: This surface type is most frequently employed in cleanroom situations. A perforated surface has reduced surface area for dirt, dust, and particle matter to accumulate and attach to, and enhanced ventilation, both of which are necessary for maintaining cleanroom class standards.
Pros And Cons Of Metal Furniture!
Wood has long been the preferred material for furniture. However, homeowners are eager to experiment with new materials because of the go green trend.
Metal is one of the trendy materials! While it was formerly deemed utilitarian, its artistic appeal quickly gained favor. However, consider the advantages and disadvantages before becoming one of the "metal fans" if you're interested.
Let's Look At The Pros And Cons Of Employing Metal Furniture.
Pros:
1. Durable:Metal furniture is comprised of durable components that ensure its longevity. It does not deteriorate as wood does. It is durable and does not require frequent replacement. It will be sturdy and attractive for many years to come.
2. Great For Outdoor Furniture: More than any other material, metals are more resilient to climate change. As a result, they are ideal for your yard or patio. Steel furniture or a steel shelf is also a sensible solution for your balcony if you live in an apartment. It implies that you are not required to move the furniture inside during the monsoon or the summer.
3. Stylish: Steel furniture is no longer boring because it is available in various shapes and patterns that are just as appealing as hardwood furniture. You can also have a combination of wood and metal furniture or purchase furnishings painted in natural colors that look like wooden furniture. As a result, no matter what the subject of your decoration is, you may find metal furniture that complements it.
4. Safe: Metals' strength also protects against theft. Because of its fire resistance, your furniture will remain undamaged in the event of an accident or rapid fire outbreak, saving you money and offering comfort.
5. Environment-Friendly: Metal furniture is the ideal choice when air degradation poses a significant threat to health and well-being. In addition, it is easily recyclable and does not require the felling of trees or excessive chemicals.
6. Low Maintenance: Metal furniture is unlike any other type of furniture in terms of ease of maintenance. You must clean it with a towel or wash it with standard soap and water. Rust may be an issue, but it is avoided with a new coat of paint.
7. Pest-Resistant: Bed bugs are a problem in wooden and metal furniture, although steel beds and other furniture are more accessible to control as a pest problem than wooden ones. Also, after some time, you may wipe the steel furniture with soap to remove all chemicals. However, with wooden furniture, you may have to wait a few weeks for the chemical compounds to wear out.
8. Space-Smart: It takes up little room and may easily fit into compact spaces. Metal furniture is helpful in close apartments.
9. Affordable: Metal furniture is inexpensive despite its durability and attractiveness. Therefore, it is ideal for individuals with a small budget for house decoration. Also, the replacement warranty is less frequent because it lasts so long, which helps you save money.
Cons:
1. Weight: Metal furniture's primary downside is its weight. Because of its importance, moving or carrying it around can be challenging. Metal furniture may be a deterrent if you occasionally enjoy rearrangement of your furniture.
2. Absorbs Heat: Metal furniture can become extremely hot and unusable if left out in the sun. However, it can get freezing to sit on during the winter. Avoid resting on a steel bench in your backyard on a hot summer day if you want to avoid getting scorched instead of tanned.
It is only appropriate for some floors: Metal furniture occasionally has poor finishing and sharp spikes at the base. It could scratch or grate the floor. You must inspect the furniture before purchasing it.
Always consider the advantages and disadvantages before purchasing furniture to ensure it will serve your needs. Metal furniture is an excellent choice if you can maximize its benefits while minimizing its drawbacks.
Why Choose SMVK?
SMVK Enginnering & Fabrication is the most reputable Manufacturer of SS/MS Tables & Furniture. We provide Tables and Furniture at the most competitive prices. All Around India, including Mumbai and Maharashtra. We offer top-quality Tables and Furniture that can satisfy the demands of our clients. Are you looking for affordable Tables and Furniture? Then SMVK Enginnering & Fabrication is the company for you.